Wassup y'all?
Hope everyone had a great holiday & happy new year
I know it might have been too much for some of us,
But we are excited to start partying once again
With that in mind,
I hope everyone makes it out to OH PIMP! #10: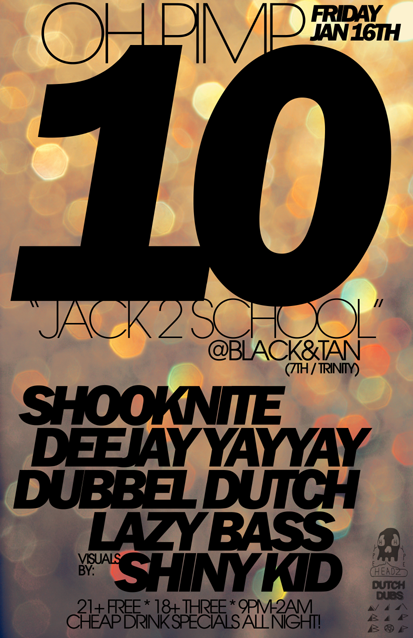 I can't believe that we are actually at number ten
This week sees our good friend
Dubbel Dutch
special guesting
The last time he was playing with us,
Things definitely got outta control
He has mailed me this track for all y'all to download:
Robert Boogert - On My Knees (Dubbel Dutch Remix)
I dunno if y'all heard the news,
but Tummy Toast producer & Oh Pimp regular
Lazy Bass
has been signed & has a release coming out on
Jak'd Recordings
(Justin James' new label for 2009)
Keep yr eyes peeled for that single
& a Jak'd Recordings Friday at Oh Pimp in February
Here is a Lazy Bass track that will have you feeling thangs:
Lazy Bass - I FEEL YOU
As for the future -
Definitely stay posted
Cuz we have a lot poppin off in the next few months
Fasho!
xo, Jamal / Deejay Yayyay